In The Media
Recent Press Articles, Blog Posts, Interviews, Videos and More
Foxnews.com – Gun violence: Do guns save lives?
Rob Pincus on firearms owners' rights and responsibilities.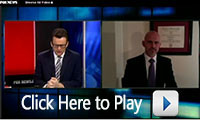 PoliceOne.com
I.C.E. Training of Virginia Beach, Va., stands for "integrity, consistency, and efficiency". It is the premiere school for gun handlers. Any armed professional who hasn't heard of Rob Pincus, the owner and lead instructor of I.C.E., probably should get to know him.
Pincus designed Combat Focus Shooting as a complete system which combines gun handling skills with other essential abilities. When I attended a demonstration of Combat Focus Shooting, I was thoroughly impressed. The methods are realistic and time-tested.
What is most the most popular class in most training facilities? Most training organizations report that officers like basic defensive handgun courses. The best value for an officer in service is a handgun course, even as a refresher.
Pincus reports that officers prefer the Combat Focus Shooting course, which is an integrated skill building approach. Not surprisingly, many agencies have requested the Combat Focused Shooting Instructor Development
Pincus worked with members of agencies that had less than 5 officers and worked with members of the NYPD and Chicago PD.
Pincus told me that agencies who use I.C.E. as their training provider have an advantage over an agency relying on their internal training. One advantage is that by having the influence of the private sector, it can evolve faster to accommodate specific training needs as well as provide more relevant training solutions.
For Special Operations Personnel, I recommend the Extreme Close Quarters Counter Ambush program (3-5 days) which combines intuitive shooting with close quarters unarmed skills. Training is done force-on-force at speed.
Pincus is the personality behind the product. He has an impressive flair, handpicks his staff, and delivers exactly what the officer came for: a system which works, not just a handful of shooting drills. I recommend using his training videos and book for refresher material.